YOU MADE THIS HAPPEN PEOPLE! OMG I LOVE YALL SO MUCH! THANK YOU!


its a celebration bitches!! (c) kanyeezy
the suspense is over and while we have not been contacted by the good people over at myspace (i would leave my aim on but i already know that thing is gonna be a melee today) the voting is over and the polls show that tanya morgan is gonna be hittin the slot machines. this is freaking awesome. so now i just gotta wait to see what the next step is.
so its lookin like
TANYA MORGAN vs MITCH GUNZ vs METAFORE
will go head to head in vegas. shout out to fortified and NRP. im kinda sad NRP came in last place man, for real. i know im not supposed to be rooting for the competion (and GOOD competion at that!) but they really had the best song to me. im sure they will be fine tho, they got a good sound.
in the meantime tho i will say i saw something kinda dope on train today. an older guy (
who rushed the door and kinda cut me off from getting into the open part of the train and left me wedged against the door :/
) was on the train playin his walkman. a group of 4-5 kids were bein kids '
nigga fuck bitch shit ass nigga ole nigga ass nigga you nigga'
.(
my cbox would be so ashamed of them
) you know doin that. and they were LOUD as hell. so the guy who wouldnt let me pass turns to one and says
'say brother, do you know how loud you are? you are offending me and everybody around me. nobody wants to hear you disrespect yourself and all these other people on the train with your use of THAT word. the least you can do is not yell it and be disrespectful to yourself in private'
i mean dude went on like that for a good 2 minutes. shut them lil dudes DOWN. i like seein older people pull on the young community to do better. like he wasnt their dad but he felt a responsibility towards them, thats whats up. made me smile (
well actually i was laughing at them hahaha
) but yeah. my relationship to the word is tricky. i mean i have tried to cut back from using it in my songs so much, along with curse words but in real life? man listen... im on that paul mooney, i say it to keep my teeth white lol. i have a theory on my conversational use of it but i wont go into that here... unless prompted
also on the train there is this guy i see alot who wears a janet jackson rhythm nation styled metal billed hat. only the metal is actually shinny cardboard and he has a shaved head with a pony tail. and he is a geeky lookin asian guy. i wonder what he does that permits him to walk around lookin like an idiot all day. i mean he wears this shit EVERY day with like a plaid shirt, some cargo shorts and some kinda run down sneakers laced up REAL tight. i mean for real, yall cnat imagine how weird this cat looks. i bet his life is awesome. he probably rides chariots throught the streets of the bronx proclaiming himself the king of the rhythm nation. or maybe he walks atop the std ridden waters of the gowanus like jesus did. who knows, all i know is i want to tell him to take off that funny ass hat but the pony tail is probably a worse look.
thats all for now folks... ill keep you posted on tanya does vegas. big tings a gwan!
P.S.
- and while we discussin the 90's jodeci's first album has this song called my phone (if you were like me you didnt play the fast side at ALL tho) and the chorus goes:
my phone doesnt ring anymore/no hands knockin at my door
does that line strike anybody else as odd? no hands? why not no friends? or no one? or no love? just a decapitated hand? maybe that hand from the addams family was hittin the crew off with handjobs in their pregroupie days...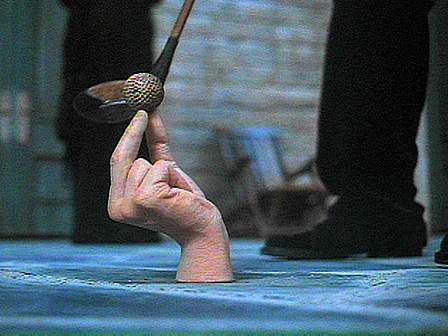 P.P.S
- BOYZ TO MEN'S FIRST LP HAD SOME BANGIN FAST SONGS ON IT! SIMPIN! TOO HYPE?!?! SON I NEED THAT SHIT TODAY OMG! I NEED IT NOW! NOHOMO. im sure tia would agree with me on this one, right lizzle?